Roberto Firmino is a polarising player, largely because his game is not predicated on goals despite wearing Liverpool's famous number nine shirt. He has scored only eight goals in 34 appearances this season despite playing in a prolific Liverpool side in which Sadio Mané has scored 16 and Mohamed Salah 19. It would be easy to conclude, when looking at these basic statistics in isolation, that Firmino's importance at Liverpool is minimal. However, when contextualised, many of his supporters will argue that his lack of goal scoring doesn't reflect his true value. Instead, his broader influence on the side is all about bringing other players into play and, therefore, goes beyond his numbers in front of goal.
The 'Firmino Role' 
Firmino's importance to Liverpool is largely down to his capacity to accentuate the ability of those around him, particularly supporting forwards. Generally speaking, his presence in the team increases the overall amount of goals Liverpool score. By playing as a false-9 he is able to drop deep and create space for Mané and Salah to run into, before picking the perfect pass to play in the wide forwards. His 58 assists for Liverpool since he signed for the club in 2015 have been crucial in allowing Mané and Salah to score with such frightening regularity, with Firmino's 17 assists in the first season the famous front three played together acting as testament to that. 
What is most interesting, however, is that while Firmino plays a significant role facilitating Salah and Mané, they also facilitate him. For Firmino to be perceived as successful, others have to be extremely effective. If Salah and Mané were not as prolific goal scorers, Firmino's utility would decline drastically. His poor goal scoring numbers are, therefore, rationalised through the success of others rather than his own quality. Firmino relies more heavily upon the collective for their success and should, therefore, rightly anticipate less individual acclaim. 
Roberto Firmino has not scored a Premier League goal at Anfield since March 2019 ????

A problem for Jurgen Klopp? ???? pic.twitter.com/JxnxnZwP1z

— Goal (@goal) July 12, 2020
Football, however, is more than simply a game played by eleven individuals. It is a team sport and viewing player quality through their ability to change games individually removes crucial context. His ability to drop deep, link-up play and maintain the high press makes him perfect for Liverpool's style. By dropping deep in between the lines in midfield, he does more than just create space for the wide forwards, but helps Liverpool transition into attack. His presence in the central zone provides more short passing options for his teammates, thus allowing Liverpool to bypass their opponent's press. 
His movement also drags defenders out of position, increasing the attacking threat of his Liverpool side when they are in possession. As such, Firmino's movement creates a conundrum for teams. Do they follow him and inadvertently leave space in behind? Or should they defend as a low block, leaving Firmino well alone but allowing Liverpool to consolidate higher up the pitch?
Firmino's unique qualities also allow Liverpool to play with a more robust midfield, giving the Reds the license to play with their typically high-quality full-backs further up the pitch, which in turn make it difficult for the opponent to sit deep. 
Without the central creative presence provided by Firmino, however, opposing teams are able to put greater onus on defending wider with less fear of the central space being exploited. This, in turn, reduces the effectiveness of Andy Robertson and Trent Alexander-Arnold, whose barrage of crosses are key to how Liverpool attack. The interplay between the full-backs, the wingers and Firmino is, therefore, crucial to how Liverpool sustain their high-pressure brand of football, even against strong compact defences.
2️⃣5️⃣0️⃣ combined goals in all competitions under Jürgen Klopp!

9️⃣4️⃣ Salah ????
7️⃣9️⃣ Mane ⚡️
7️⃣7️⃣ Firmino ???? pic.twitter.com/oQ9nIwPY2e

— Liverpool FC (Premier League Champions ????) (@LFC) July 8, 2020
In summary, Firmino dropping deep allows for Salah and Mané to act as auxiliary forwards. When they move narrowly they open space out wide for the full-backs to exploit, this requires a more solid midfield to cover how high they push. Thus, the positive effects of his role reverberate around the team compared to a striker purely focused more on scoring goals. So, what he provides is clear, the question now becomes does that justify his wastefulness in front of goal? 
Where do Liverpool go Next?
In reality most strikers fit into neither of the binary extremes of poacher and playmaker, but rather somewhere in the middle. By looking to buy a player who exhibits both of these qualities,  Liverpool can lessen the weight of Firmino's wastefulness in front of goal while continuing to have a competent link player to connect midfield and attack. 
A Premier League example of this complete forward who would suit and improve Liverpool is Harry Kane, but expecting Liverpool to get his signature is plainly fanciful. Alternatives do exist, however, including Napoli's Arkadiusz Milik, someone who Liverpool would do well to pursue this coming transfer window. He provides something different to Firmino due to his better record in front of goal and significant aerial threat, while also being able to competently carry out deeper link play. His contract with the Neapolitans expires next summer, something that Juventus have been keeping close tabs on.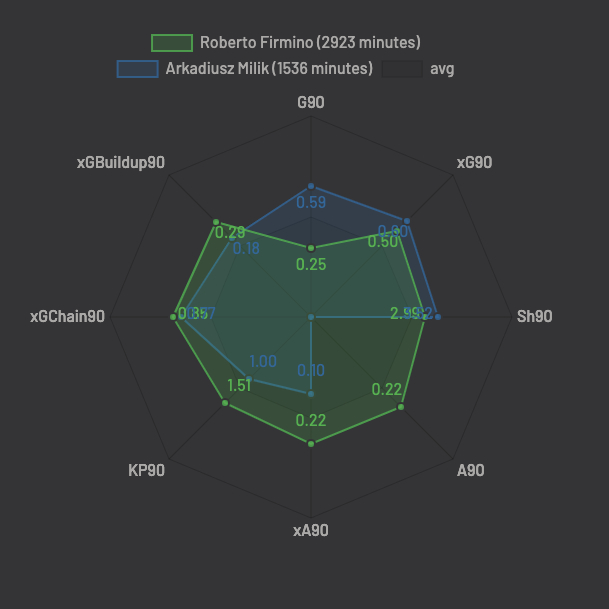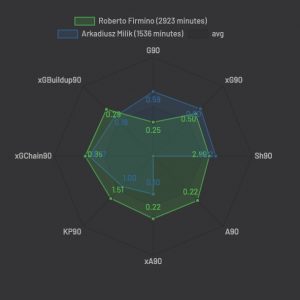 Roberto Firmino v Arkadiusz Milik 2019/20 via understat.
G90 = Goals per 90 Minutes, xG90 = Expected Goals per 90, Sh90 = Shots per 90, A90 = Assists per 90, xA90 = Expected Assists per 90, KP90 = Key Passes per 90, xGChain90 = Expected Goal Chain Involvement per 90, xGBuildup90 = Expected Build Up Play per 90. 
Statistically, Milik is more in the mould of a goalscorer, picking up 13 goals in all competitions this season. When compared to Firmino's overall play excluding goals, his relative statistics are still impressive. His xGChain90 – the metric that measures the player involvement in a team move that leads to a chance – and XGBuildup90 – which measures the same thing but doesn't take chances into account – numbers are remarkably close to Firmino's. These particular metrics are still very new in the world of football statistics, but they are a great indicator of a player's ability to contribute to build up play. Milik's involvement in possession chains that lead to a chance suggests he manages to frequently and capably contribute more than just goals to Napoli. 
With regards expected assists and actual assists, Firmino significantly outperforms Milik. This is partly because Milik plays with wingers not of the quality or Salah and Mane in a Napoli side who have struggled in Serie A this season. As such, he plays in a team that scores fewer goals and, therefore, providing him with fewer opportunities to assist. 
Nonetheless, it would be unlikely that Milik would be able to replicate Firmino's level of proficiency even when situated in a team as well designed to that end as Liverpool. It is also important to take into account the important work Firmino does off the ball, such as his selfless runs that make space for his teammates, which is something that cannot be very well quantified statistically.
Milik's injury troubles this season, however, means that his numbers for 2019/20 don't offer the clearest comparison with Firmino. His recurring knee and groin injuries this season have meant he has been a less frequent starter this season, coming on more regularly as a sub, altering his statistics per90. When looking at the 2018/19 season, however, his more consistent game time means that a clearer picture can be drawn between the two players.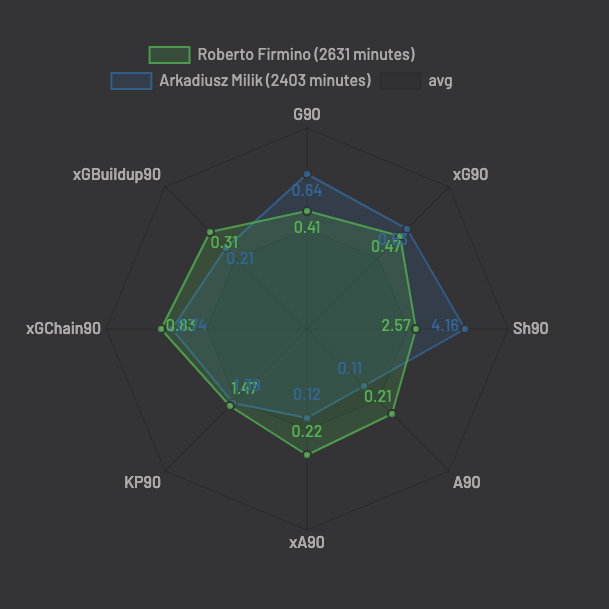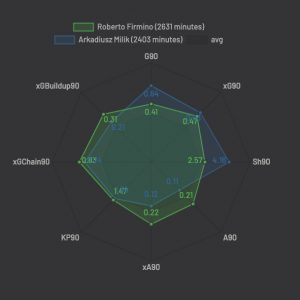 Roberto Firmino v Arkadiusz Milik 2018/19 via understat.
But something that is worth noting is that the Napoli front three Milik has played in has significant stylistic parallels to Liverpool's. Lorenzo Insigne typically plays as the left sided forward geared towards higher involvement in play, similar to Mane, whereas José Callejón is comparable to Salah in that his game is oriented around his off the ball movement and runs in behind defences. Napoli's system is more rigid than Liverpool's and does not portray an exact replica, but it does prove that Milik has experience of playing alongside attackers with similar profiles to Liverpool's. Furthermore, Milik often shared the centre forward duties with Dries Mertens, a player who is also renowned for his technical quality and link-up. 
Milik could, therefore, compete with Firmino for the starting striker role while offering a tactical alternative for Liverpool. A signing such as this could even act as the catalyst for an improvement in Firmino's form in front of goal.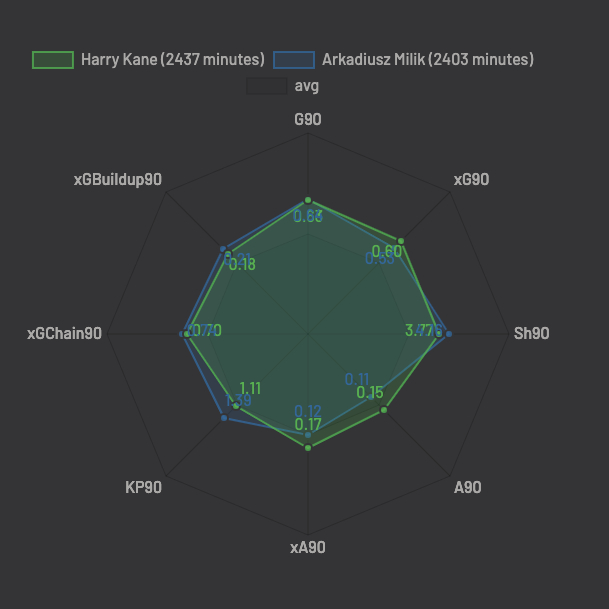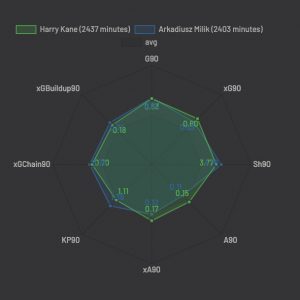 Harry Kane v Arkadiusz Milik 2018/19 via understat.
Firmino's similarities to Harry Kane's 2018/19 season – where both had considerable game-time – prove that Kane's 'archetypal forward' profile could fill the Firmino role, while another candidate worth considering is Raúl Jiménez at Wolves. With 10 assists to his name in all competitions, he has been involved in 35 goals for his club this season,  a record only matched by Mohamed Salah. As such, he already has experience playing as a lone striker in a front three with expectations to drift and link play but, given his age and reported price-tag, this transfer also does not seem feasible. 
There are very few if any like-for-like alternatives to Firmino, so unique is his ability. A directly comparable but weaker replacement would limit Klopp's options off the bench, even if it helps the Reds remain tactically consistent. Bringing on a player to break the stalemate in the final 20 minutes, for example, would require someone who could change how Liverpool play. A Firmino 2.0 would not do this.
Therefore, while not irreplaceable, replacing Firmino at present would not be prudent. Change can often bring a fresh approach and, while even the best teams must make changes, developing Liverpool without Firmino front and centre would be the wrong thing to do. Nonetheless, extra competition for the leading role and depth in attacking would only serve to benefit Liverpool going forward. It would, therefore, be wise for the Reds to branch out and sign a player in the profile of  Arkadiusz Milik who would not only offer them a greater aerial threat, but allow them to continue playing their swift brand of attacking football.