Blackjack, also known as 21, is one of the most popular casino card games. This classic game requires a combination of luck and skill, which is what makes it such a hit among online casino players. The aim of blackjack? Beat the dealer to 21 without going bust – it's as simple as that! The simplicity of blackjack rules makes it the perfect card game for beginners, but you'll still need to play your cards right to beat the dealer.
As blackjack is a game with an element of strategy, understanding how to play and maximise your chances of winning will certainly set you in good stead. That's where we come in! Check out our guide on how to play blackjack online.
Blackjack: The Basics
There's a huge variety of online blackjack variations online, each with slightly different rules. However, the aim of the game is always the same: beat the dealer's hand by getting to 21 first. Of course, you need to do this without going bust- that means exceeding 21. If neither you nor the dealer's hand totals 21, the closest hand wins.
Blackjack Moves
There are a number of moves in blackjack and, while the exact rules surrounding each move varies between blackjack variants, here's how they work on a basic level.
Stand
Stick with the hand you've been dealt. You won't receive any additional cards once you stand.
Hit
Try your luck with the next card in the deck- preferable for players who were dealt two low-value cards in their first hand.
Double Down
Double your initial bet and commit to stand after you've been dealt with another card.
Surrender
Available in select variations, you end the game early and forfeit only half your bet. There are two types of surrender: early surrender (before the dealer checks for blackjack) and late surrender (after the dealer has checked their hand).
Split
Received two of the same card? Split into two separate hands and receive a new card for each.
Here's how to play blackjack in 5 easy steps:
Make your bet
Set your stakes and click bet.
Receive your cards
The dealer will deal you both two cards. Whereas both your cards will face up, the dealer's cards are one face-up (up card) and one face down (hole card).
Check your hand
Got an ace and 10? You've hit natural blackjack and will win 1.5 times your original bet! If not, you'll need to check your hand to decide your next move. The dealer can only check for blackjack if their face-up card is a 10 or an ace. Your bet will be returned if both you and the dealer land a natural blackjack. This is known as a push.
Make your moves
Will you stand or hit? Perhaps you'll double down. Click your chosen move on the screen.
The winning hand is revealed
When you stand, or you or the dealer goes bust, your hands will be shown on screen. If you have the strongest hand, your winnings will be paid into your casino account.
Blackjack Card Values
Blackjack card values are pretty self-explanatory. Cards 2 through 10 are worth their face value, while face cards (jack, queen and king) are each worth 10. Aces are worth either 1 or 11, depending on which gives you the best hand.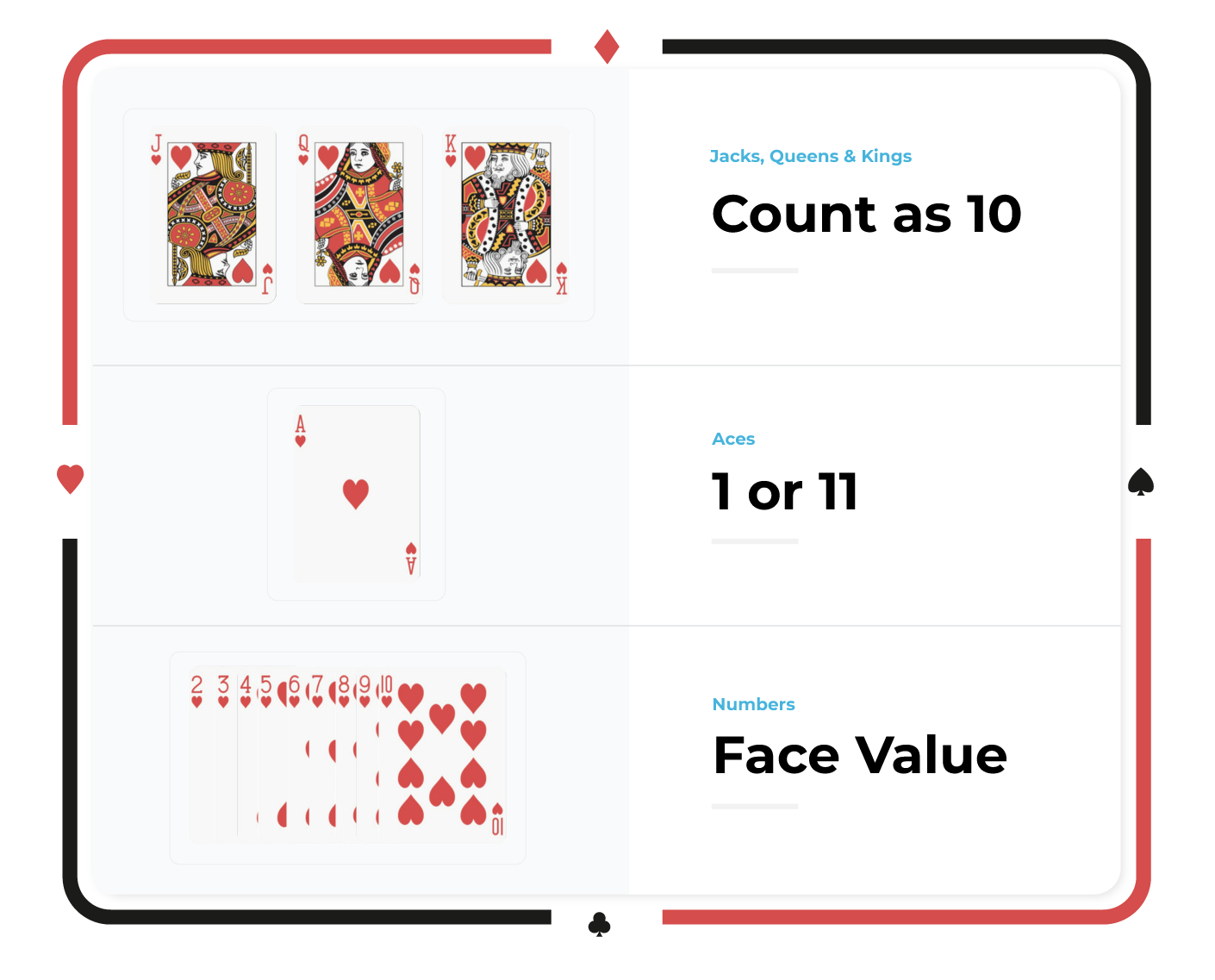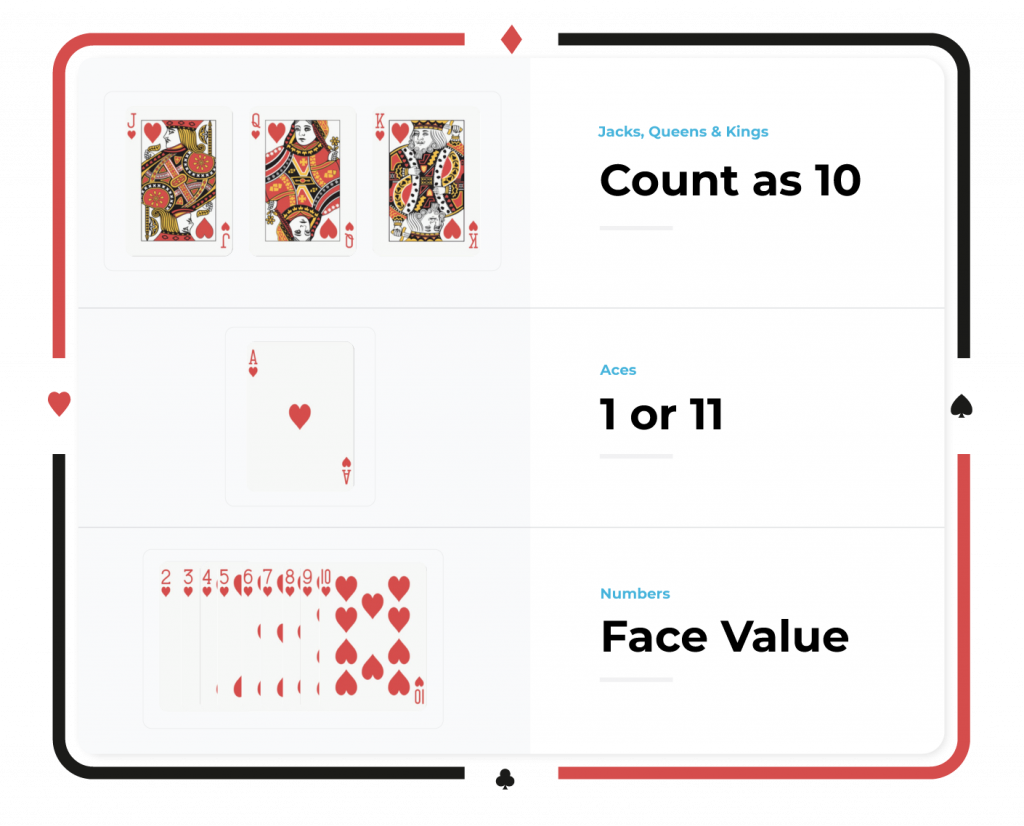 Using an Ace as an 11 is known as a "soft hand"
Blackjack Payouts
Standard blackjack games pay out 3:2 for blackjack, which means you'll receive 1.5 times your bet if you hit 21. If you don't make 21, but still beat the dealer, blackjack pays out 1:1. Some games such as Blackjack Switch have rule variations that are beneficial to the player, and this advantage is often evened out by a reduced payout for natural blackjack wins.
The chances of winning at blackjack vary depending on the blackjack game you're playing. Factors such as the number of decks of cards in play, if surrender is allowed, and when the dealer must stand all impact the blackjack house edge.
Blackjack has a pretty low house edge, which is part of what makes it so appealing. The house edge for regular blackjack is less than 0.5% when you play according to basic blackjack strategy, so take time to clue up before you start playing.
Blackjack Side Bets
Side bets in blackjack have the potential to offer some handsome payouts, but they also increase the house edge significantly. Side bets are won, and lost, separately from your main blackjack bet. These are some of the most common side bets in online blackjack:
Insurance bet
This bet insures you for a payout of 2:1 if the dealer's face card has a value of 10.
21+3
This side bet pays out based on the player's first two cards and the dealer's up card. These cards will need to form a flush, straight or three-of-a-kind for your side bet to pay out.
Perfect Pairs
You're betting on getting a pair in your first hand. Payouts vary depending on the strength of your pair, i.e. whether the suits match, their colours match, or they have the same colour and suit.
Bet Behind
This is a bet on another player's hand commonly offered to players waiting for a seat at the table of live blackjack games.
Royal Match
You'll win the side bet if you land a suited king and queen with your first two cards.
The side bets on offer vary between blackjack games. If you do risk it with a side bet, you'll need to place your chips on the corresponding area of the table.
Live Dealer Blackjack
The rules for live dealer blackjack are the same as when you play animated blackjack games. The main difference is that there will be a professional dealer playing your cards and you can communicate with this dealer. Live dealer casino games also tend to play out a little slower than RNG games, as you'll have a real dealer controlling the game and dealing cards, rather than a computer that does it automatically.
Want to play other casino games online? Check out our guide on how to play roulette!
Ready to play?
Now that you understand the basics of how to play blackjack, you're ready to give it a go for yourself. Looking for the best casino sites for blackjack players? Compare.bet has found the UK's top blackjack sites for you to choose from. All you need to do is compare and pick out a favourite to get started.
Frequently Asked Questions
What's the minimum bet for online blackjack?
The minimum bet varies between blackjack tables. While some allow players to bet as little as £1 per round, other high stakes blackjack tables set minimum bets much higher. On some VIP live dealer tables, the bet limits are well into the thousands. Be sure to check the paytable for minimum bets before you play, otherwise, you could work through your bankroll much faster than anticipated.
Do I have to bet real money on blackjack?
No. All of the best online casinos offer free-play versions of their blackjack games, which is ideal for beginners learning to play blackjack. While you can't win real money playing free blackjack, you can get a feel for the game's rules and what happens when you make particular moves.
What's the best strategy for playing online blackjack?
There isn't one. Unfortunately, there's no secret strategy for winning online blackjack. Some blackjack players say that counting cards helps them make decisions, but this is next to impossible in online blackjack games with multiple decks in play. There are strategy cards out there that advise which moves you should make with each card hand. Of course, this doesn't guarantee a win, but basic strategy helps you make sensible decisions.
Is live dealer blackjack harder than RNG blackjack?
No. Your chances of winning at blackjack are identical, whether you play in land-based casinos, online with virtual dealers, or with live dealer blackjack. The rules and odds change only if you're playing different blackjack variations.
Can I play blackjack on my mobile?
Yes! The top online casinos have either mobile-optimised websites, or mobile casino apps, which makes it easy to play blackjack wherever you are. You can even play free blackjack on your mobile, which means you can fit in some practice games when you're out and about.