New York, NY – Thousands of fans and media converged on the Hells Kitchen section of Manhattan for the unveiling of New York City F.C.'s home kit.
Spanish star David Villa did the honors, donning the new jersey for the event. As expected, the "City Blue" color of Manchester City set the back drop for the NYCFC logo, with a familiar partner in Etihad Airways emblazoned across the chest.
The Emirate based airline will be a featured partner for the club for the next five years.
"This is a milestone day for New York City Football Club. Our first home jersey is a huge part of our identity and we are proud that our kit and our team will be so strongly associated with a partner of the caliber of Etihad Airways," Chief Business Officer Tim Pernetti said.  "Today will be remembered as one of our most significant landmark moments as we build towards our historic inaugural season, due to kick off this coming March."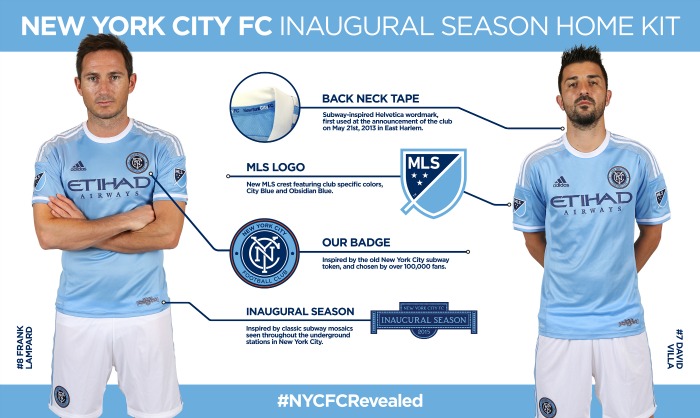 The jersey's themselves have been received with mixed reviews.  A touching tribute to Yankee Stadium adorns the bottom left half of the jersey, with the words INAUGURAL SEASON highlighted under the iconic pillars of the baseball side.
That is about as unique as the offering gets.  While most expected both the color scheme and the Etihad sponsorship, few could have imagined a shirt that more closely mirrors their mother club, Manchester City.  A simple, clean design, NYCFC's home offering is a near spitting image of City's traditional home apparel, barring kit designer and the occasional black accents.
Pernetti reveals a design for the team's road shirts have already been approved.  Sources tell EOS that unveiling, along with the other Orlando City shirt, will take place next year in coordination with the league's official jersey week release.
"This is just the first day of what we firmly believe will be a lasting and fruitful relationship, both for New York City Football Club and for Etihad Airways," Pernetti said.  "We cannot wait to start working together to provide a fantastic experience for New Yorkers."