English football has come a long way from the crunching tackles and flying elbows of yesteryear. The Premier League is still renowned for being a highly physical, fast-paced competition though, more intense than any other of the top five European leagues. Our latest research found that top-flight clubs racked up a huge 4,872 'dirty' offences during away games in the 2019-20 season.
We determined the number of 'dirty' away game offences by totalling the number of fouls committed, and the yellow and red cards received by each club, creating a ranking of the 'dirtiest' teams away this season.
---
5 Dirtiest Premier League Teams
Claiming the title of the 'dirtiest' Premier League team away from home this season was Everton. Our data showed Everton to be guilty of a surprising 293 'dirty offences' on another team's turf. Meanwhile, their Merseyside derby opponent Liverpool placed as the best-behaved club this season, accumulating 91 fewer dirty offences than Everton.
Despite receiving no red cards away from home this season, Southampton nonetheless placed as the second 'dirtiest' Premier League team, boasting 284 offences – 250 fouls and 34 yellow cards. Southampton most used their dirty tactics at the Emirates this season, against Arsenal.
Placing as the third dirtiest team on a competitor's turf was Watford, whose foul play unfortunately wasn't enough to save them from relegation. Conceding 223 fouls and 34 cards overall, numbers showed the Hornets guilty of 261 'dirty' offences away from home. It also appears that Watford had the dirtiest tactics against Aston Villa, who also fell into the relegation battle this season.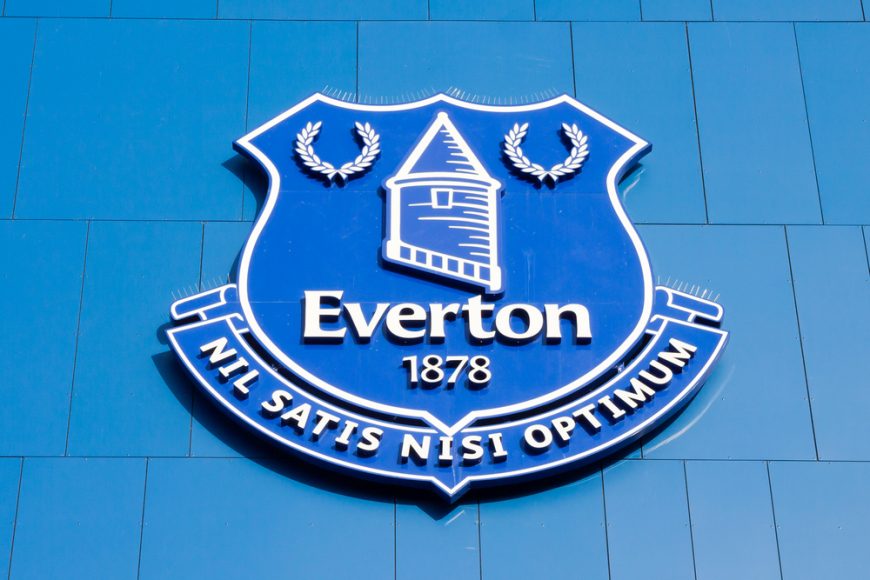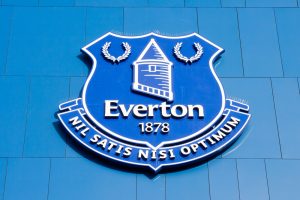 Photo Credit: Giancarlo Luguori / Shutterstock
Falling in fourth was Tottenham, with 258 'dirty' offences on foreign turf. Unsurprisingly, of their 214 fouls conceded, most were against their most heated rivals, Arsenal, where they were awarded a whopping 5 yellow cards and conceded 19 fouls – a game which resulted in a draw.
Scoring fifth position was Aston Villa, with 255 instances of 'dirty' play. Again, it would seem that the relegation battle brought out the worst in clubs, since most of their fouls were conceded against Norwich City who have since been relegated. With 220 fouls, 34 yellow cards and one red, Villa marginally stole fifth place from Manchester United who were guilty of one less 'dirty' offence away from home this season.
5 Best Behaved Premier League Teams
Our research found Premier League Champions Liverpool to be crowned the best-behaved club away from home this season, racking up 202 instances of 'dirty' play – the lowest by far. It appears Klopp has brought out the cleaner side of Liverpool this year, allowing them to win their first league title in 20 years! Their impeccable behaviour this season certainly puts their rivals Everton to shame.
Newcastle United also placed as one of the teams with the cleanest play this season, receiving the second lowest number of dirty offences at away games – 217. The Magpies' safe and sensible play seems to work well for them, comfortably finish the season mid-table for the past few years.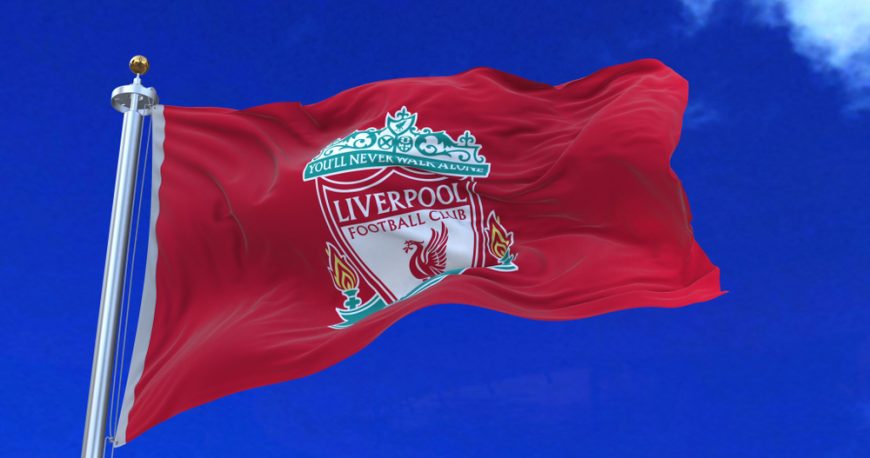 Photo Credit: Bodrumsurf / Shutterstock
Norwich City and Manchester City drew as the third best behaved clubs away from home, totalling 223 dirty offences each this season.
Meanwhile, Brighton and Hove Albion marginally stole fifth from West Ham United, placing them within the five best behaved clubs on foreign soil in the 2019/20 season.
The 10 'Dirtiest' Teams' Dirtiest Games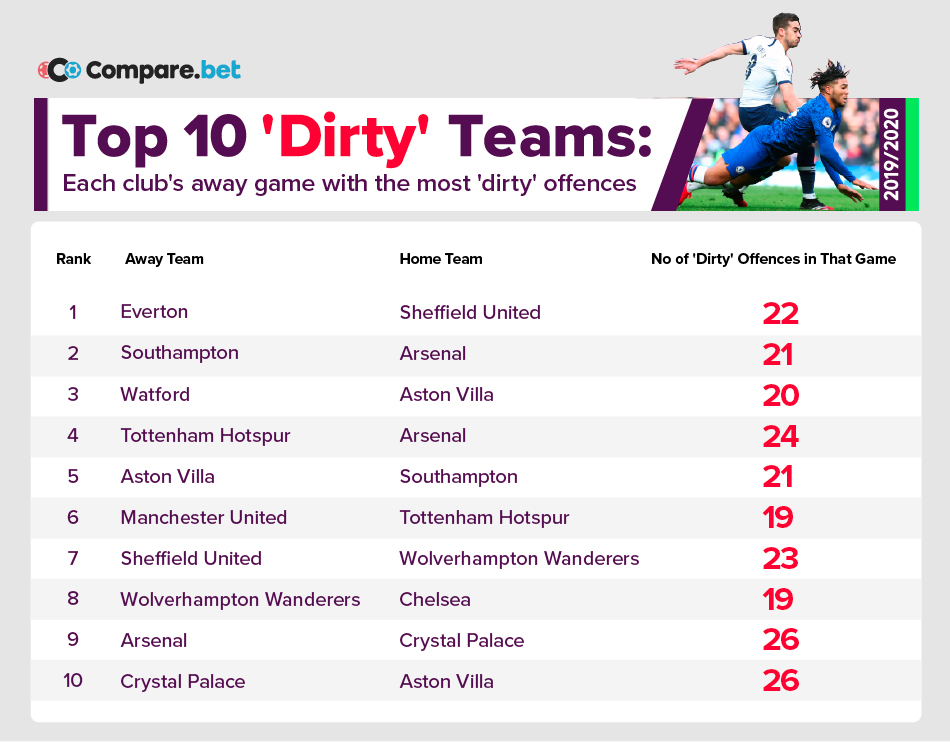 We took the analysis further to uncover which away game the top 10 'dirtiest' teams behaved worst in during the 2019/20 season.
Ranked the 'dirtiest' team, Everton behaved worst at Bramall Lane this season, against the recently promoted Sheffield United, where they received 22 of their 293 'dirty' offences – 19 fouls and 3 yellow cards.
Meanwhile Southampton's dirtiest game was played against Arsenal, with 21 'dirty' offences in the match, which finished 2-2. For Watford, their dirtiest away game was played at Villa Park against Aston Villa, where they conceded 18 fouls and received 2 yellow cards.
Unsurprisingly, the fourth 'dirtiest' team away from home this season – Tottenham Hotspur – were worst behaved at the Emirates, playing in the North London derby against Arsenal. In this one match alone, Spurs conceded 19 fouls and received a whopping 5 yellow cards – the second most yellow cards awarded to an away team this season.
However, Arsenal didn't appear to seek their revenge on Tottenham when they played at the Tottenham Hotspur Stadium, as their highest tally of 'dirty' offences came against Crystal Palace (26).
Top 5 Away Games with the Most 'Dirty' Offences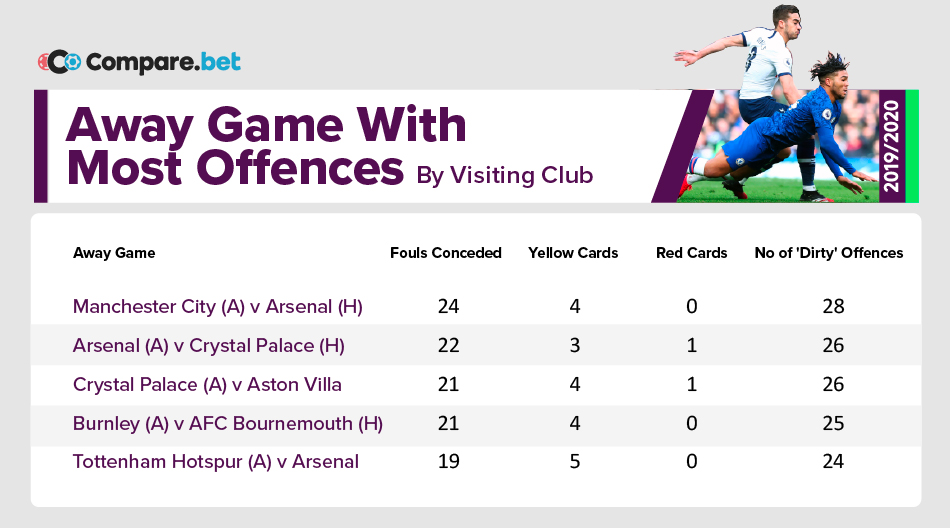 Finally we decided to rank the top 5 games in which the away team accumulated the highest number of 'dirty' offences, making these the dirtiest matches by clubs away from home.
Research revealed that the 'dirtiest' game played by an away team this season was by Manchester City against Arsenal at the Emirates. In the 2-0 defeat, Manchester City conceded 24 fouls and received 4 yellow cards – leaving them with the highest total of dirty offences in a single game. Pep Guardiola's teams have repeatedly been accused of using tactical fouls to their advantage, so it's no great surprise to see them topping this list.
Shortly behind followed Arsenal against Crystal Palace, with a total of 26 dirty offences – one of which was a red card.
The North London derby at the Emirates saw Tottenham sneak into the top dirtiest teams once more, with thanks to their 5 yellow cards and 19 fouls, making them the fifth biggest offender in a single match.
---
Methodology
Compare.bet trawled through the official statistics made available by the Premier League to extract and collate the data concerning the fouls conceded, yellow cards and red cards awarded to each premier league club away from home and against which opponent club these were given.
Using this data, Compare.bet combined these figures for all 19 away games played by every Premier League team during the 2019/20 season in order to produce the overall tally titled 'total number of dirty away games offences' for each 2019/20 Premier League team. The unit of 'dirty away game offences' adds up the number of fouls conceded, and red and yellow cards awarded to reach a conclusive number.
Using the total of 'dirty away game offences' for each, Compare.bet then went on to place these in ascending and descending order to determine the five teams with the most 'dirty away game offences' and render these the 'dirtiest' and the five teams with the least, making them the best behaved Premier League clubs this season. For example, Liverpool received the lowest total of dirty away game offences and therefore is labelled the best-behaved team away from home.
Using the collated data, Compare.bet were also able to understand which opponent clubs the biggest offending clubs played most 'dirty' against by seeing where most of their offences were committed.
The total number of offences at away games across all clubs throughout this season (4872) was calculated by combining the total number of dirty away game offences from every club to make a single, comprehensive figure across the Premier League season.
Fouls conceded constitutes the number of fouls officially recorded on the official statistics belonging to the Premier League.