Catching a New York Yankee game at Yankee Stadium can be an expensive proposition.
Their tenants, New York City F.C., promise to be a bit more affordable to watch in person.
The fledgling MLS club revealed their pricing strategy for both season tickets and individual matches for the 2015 season Wednesday afternoon.
"The moment we announced Yankee Stadium as the first home for New York City FC, we knew our inaugural season would be special, and we plan to make it accessible to every fan in the market," said Tim Pernetti, Chief Business Officer for NYCFC. "We're hearing from fans every day that are truly excited to join up and watch our club on the field. With our season ticket package, our supporters will have a variety of options and opportunities to be with us, from our first historic game and beyond."
The ten-tiered pricing strategy for the 17-game season starts at $306 for supporters and tops out at $2,975 for the "Legends Club Seats." Single matches start at $25 for supporters section and $250 for Legends seating.
Supporters sections are listed as "STANDING." Whether that means general admission is not clear.
Based on our recent study of Supporters section ticket pricing, NYCFC falls in the median, alongside the New York Red Bulls and others.
"Our priority is to ensure that all New York City FC fans can see in person what our world – class club can do on the field," said Mike Quarino, Vice President, Ticket Sales & Fan Services adds. "The season ticket pricing structure is designed to be competitive, and to allow fans to enjoy attending our matches at a number of price points while growing our fan base."
In an interesting wrinkle, NYCFC also estimate their seating capacity at roughly 27,000.
Here is the complete pricing strategy: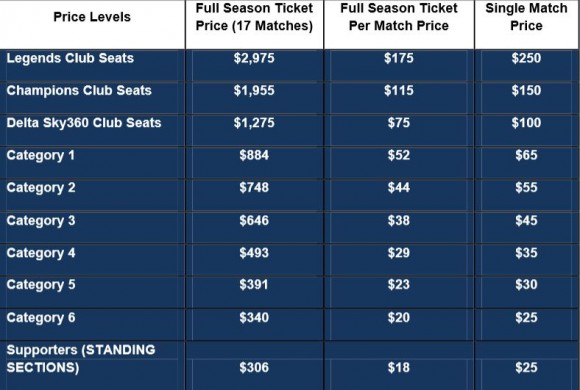 The club will gift season ticket holders team scarves for their purchase, and also offer free enrollment in their "Cityzens" discount program, interest free payment plans, priority purchasing on playoff matches and priority access to seating purchase when a soccer specific stadium is acquired.
Here is a map of the Stadium seating plans as well: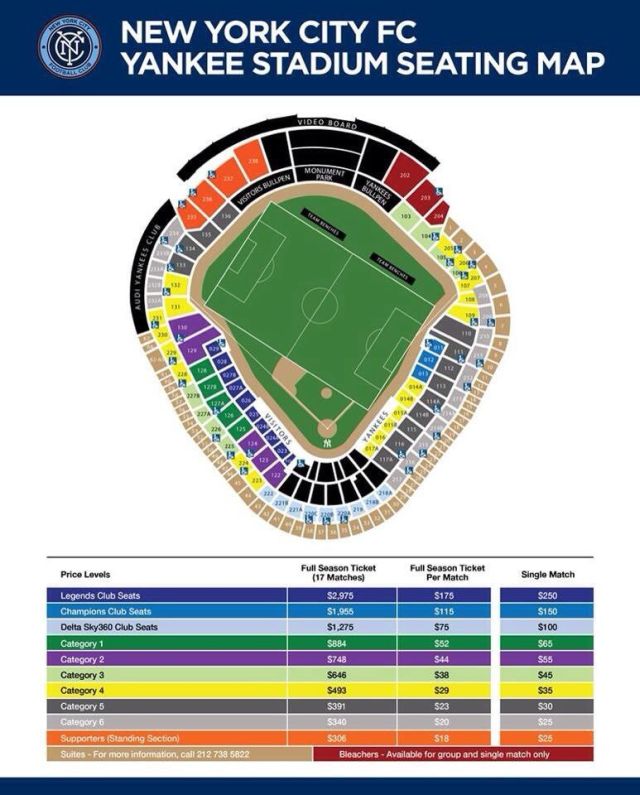 ---
Archived content originally from EmpireOfSoccer.com by Dave Martinez