Each Premier League season promises glory for some football fans, but misery and disappointment for others, and the 2020/21 season has been no exception. With the current season in full swing and competition heating up throughout the table, football fans have had their fair share of drama on the pitch, with many fans taking to the web to express their joy and dismay. But which top-flight fans are most disappointed with their club's performance this season?
To find out, we conducted sentiment analysis on the comments made on each Premier League team's main subreddit this season, specifically looking at the number of negative words fans have made about their club per 1,000 comments.
Who are the most disappointed Premier League fans this season?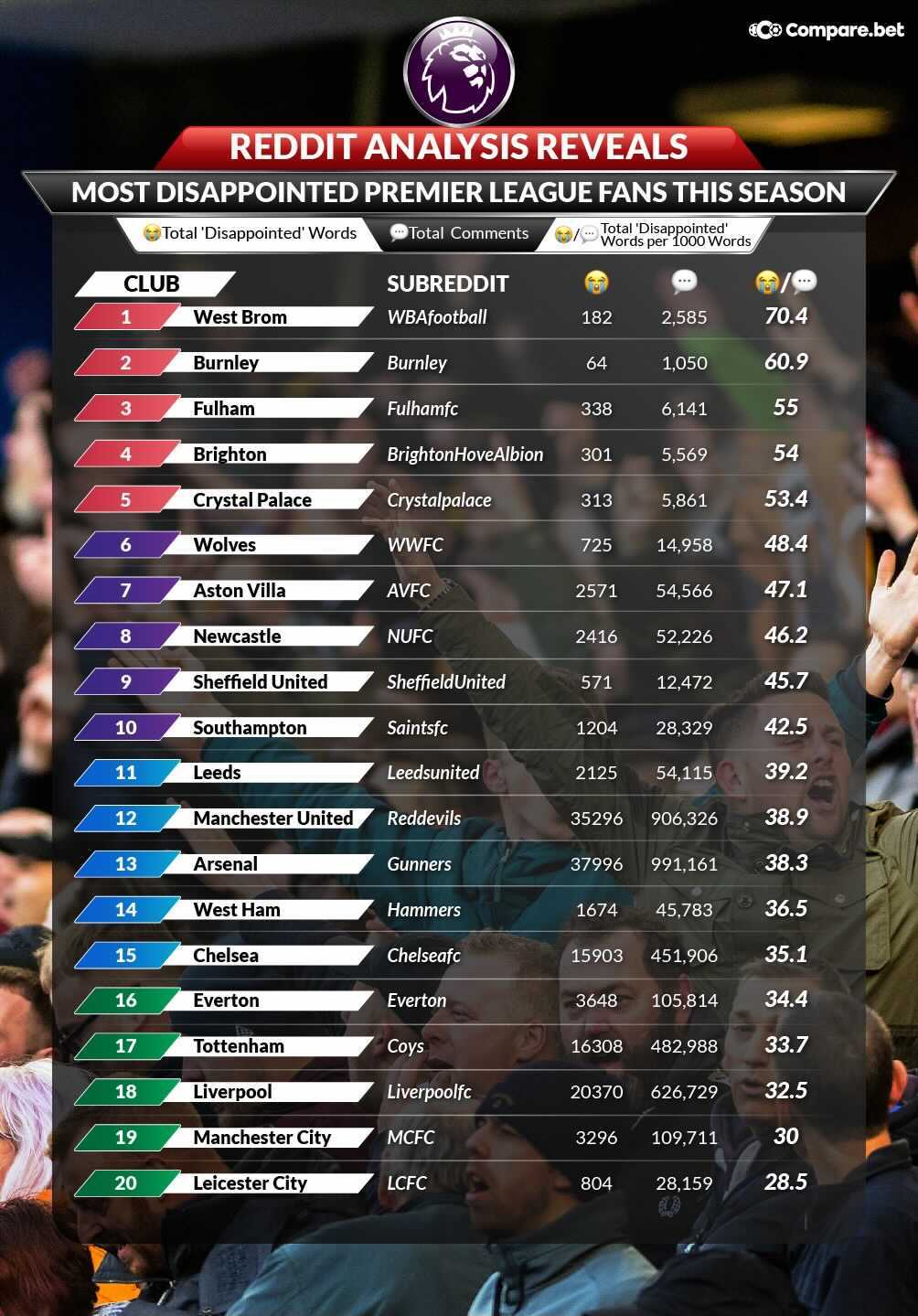 West Brom fans appeared to be the most disappointed so far this season, according to our research. On the club's main subreddit, WBAfootball, of the 2,585 comments analysed, fans made a total of 182 words associated with emotions of disappointment. This equates to 70 'disappointed' words per 1,000 comments – the most of any other club in the top-flight.
In fact, the Baggies most frequently mentioned 'sad' word was 'down', as fans mentioned this word 121 times. 'Disappointed' (12), and 'terrible' (11) followed, suggesting that the club's fanbase may not be impressed with their performance in the season thus far. This is unsurprising given that their club has suffered the second highest number of losses in the 2020/21 Premier League season to date, second only to Sheffield United.
Burnley fans followed shortly behind in second, with their 1,700 subreddit members mentioning 60 'disappointed' words per 1,000 comments. 'Down', 'sad', and 'terrible' were all among the most used 'disappointed' words used on this fanbase's forum. When bearing in mind that our heart rate study revealed that Burnley fans are the most passionate in the Premier League, it's unsurprising that fans are vocal in expressing disappointment with their team's play this season, which has left them on the bottom half of the table.
With their club at risk of falling into the relegation battle late on in the season, Fulham's football fans were found to be the third most disappointed Premier League fans this season, according to our Reddit analysis. The 3,900-strong subreddit community mention 55 negative words for every 1,000 comments they share, with 338 'disappointed' comments shared this season alone.
Meanwhile, Brighton fans mention just one fewer negative word per 1,000 comments, with 54 in total. Having made 5,569 comments overall this season, with 301 being 'disappointed', followers of the Seagulls were found to be the fourth most disappointed fans in the Premier League. At the time of writing, the club had suffered just half the number of losses suffered by Sheffield United so far this season, yet appear far more disappointed according to sentiment analysis, which might suggest that they had higher expectations of their team.
Despite suffering the highest number of Premier League losses so far this season, Sheffield United's fan base ranked as the twelfth most disappointed, having mentioned 45 words associated with disappointment per 1,000 comments in their subreddit. Among the 3,100 Sheffield fans on the forum, the most used negative words by The Blades include 'down' (381 mentions), 'sad' (46 mentions), and 'terrible' (29 mentions).
By comparison, although their club is fighting for the top spot on the Premier League table and boasts the second lowest number of losses this season so far, Manchester United fans mentioned just six fewer 'disappointed' words per 1,000 comments overall than Sheffield United fans, who have watched their team experience six times more losses this season.
When it came to the best performing clubs, our analysis revealed that Leicester City's 10,600 subreddit members were the least disappointed with their club for this season, since they mentioned the fewest 'disappointed' words for every 1,000 shared (29). At this point in the season, Leicester City sit on the top half of the Premier League table, amongst Manchester City and Manchester United, having lost just eight games so far this season.
Interestingly, our study found that Leicester City fans mentioned one fewer 'disappointed' word than Manchester City's fans per 1,000 comments (30), despite Manchester City having lost just three games and being just four wins away from winning the Premier League title. However, since Manchester City have either won or been the runner up to the Premier League title for the last three years, this may explain why they are more disappointed than Leicester city fans on Reddit.
Methodology:
Foremost, Compare.bet used Reddit to locate the most popular subreddit of each Premier League team, before subjecting these to analysis.
The experts then looked at 15 synonyms relating to unhappiness, such as miserable, sad, and regret. These are classified as 'disappointed' words throughout the study.
These negative words were then used to analyse the comments of all posts on each Premier League team's subreddit since the start of the season until the date the data was collected (12/09/2020 – 1/04/2021).
The number of negative words were noted and added together to create an overall total of negative mentions.
Using these numbers and the number of overall comments within each subreddit, we calculated the number of negative words mentioned per 1,000 comments to create the final ranking.