New analysis has found that VAR costs fans across the country over £2.7m over a season, with the video referee cutting actual playing time in the Premier League by almost 90 seconds.
The results of the study1 released today show that Premier League games with goals disallowed by VAR are 1 minute 24 seconds shorter than those without. This means fans not only get fewer goals, but also less football for their outlay on tickets.
This loss of playing time eats into the surprisingly low average in the Premier League of 59 minutes 54 seconds1. That means that almost a third of the 90 minutes offers no actual football action for viewers.
Only 22% of fans surveyed2 by Compare.bet knew that such a small proportion of the match included genuine football action.
Looking at the extremes over the 2018-19 and 2019-20 seasons, there are over 16 minutes of difference between the longest and shortest game for live gameplay. Ties range from a lowly 43 minutes all the way up to a respectable 69 minutes.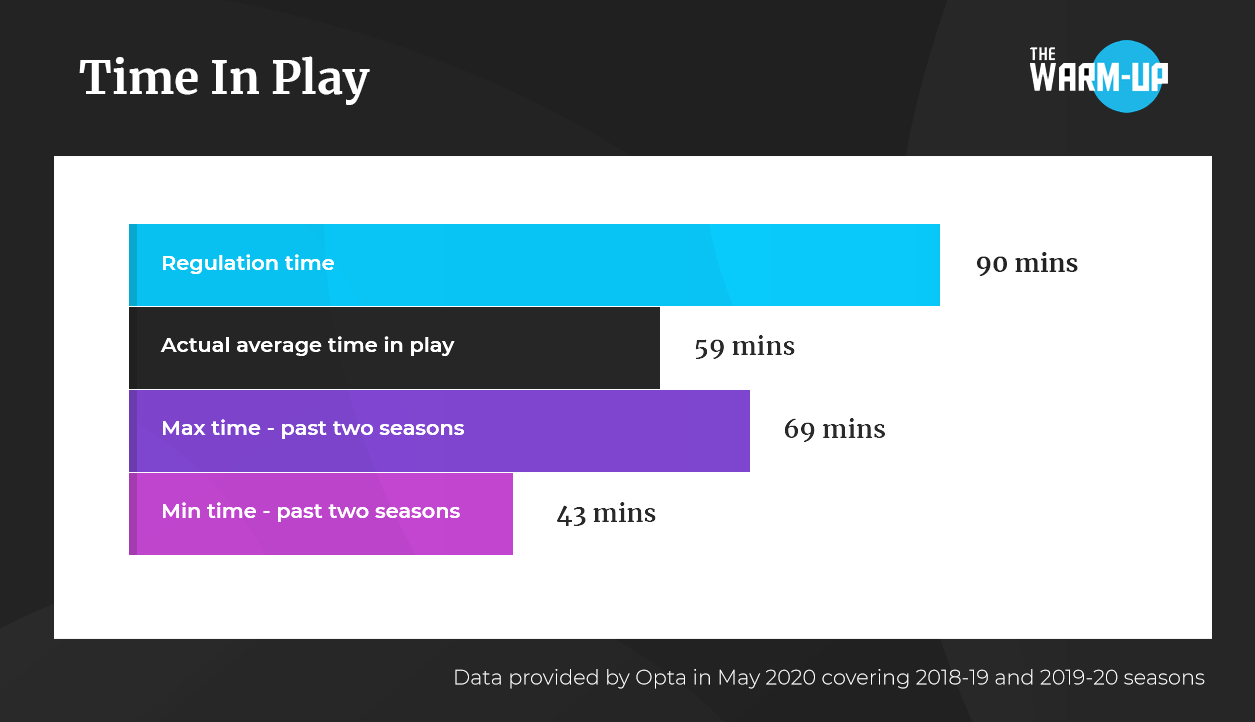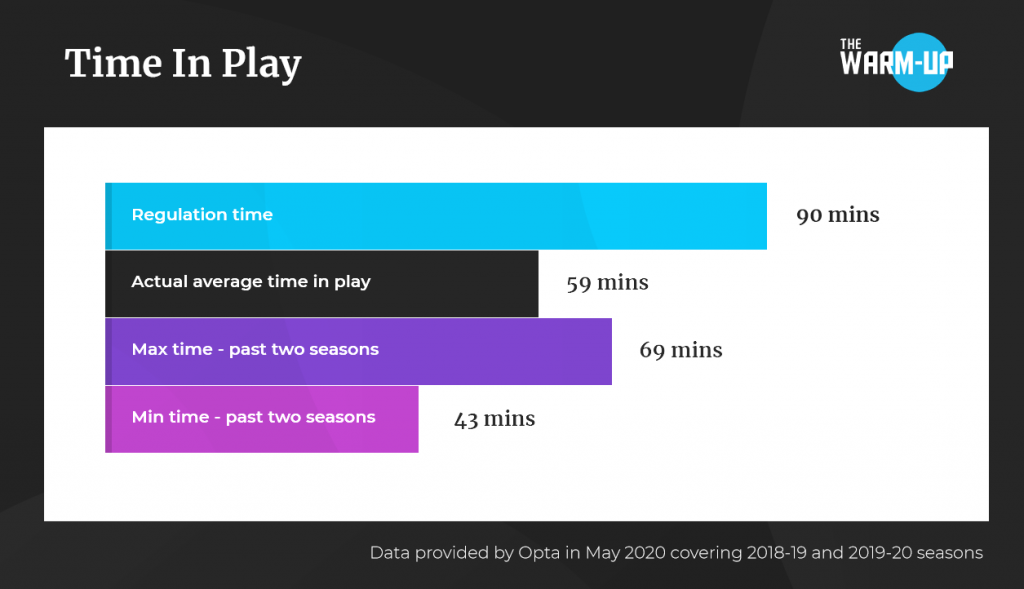 When it comes to clubs, Manchester City fans are treated to the most in-play action. Their club ranks first for time-in-play in both the 2018-19 and 2019-20 seasons – averaging over an hour per game. Everton and Southampton fans may feel hard done by though, only just scraping past 52 minutes per home game.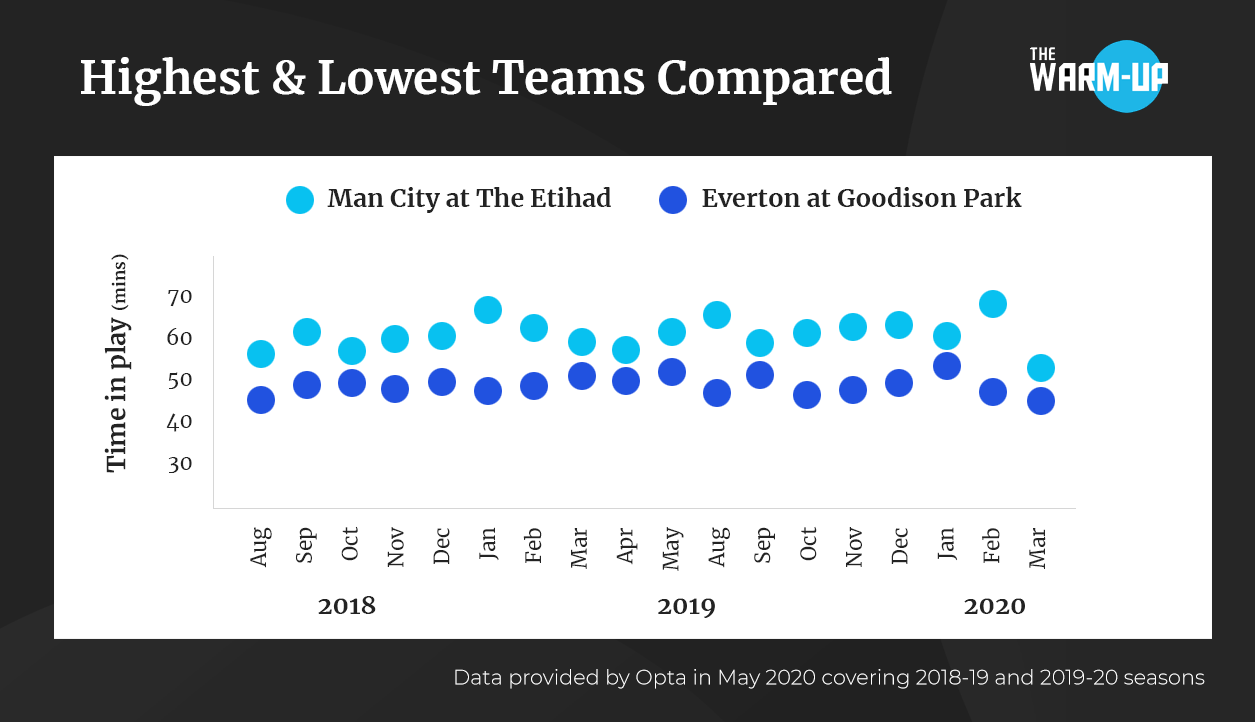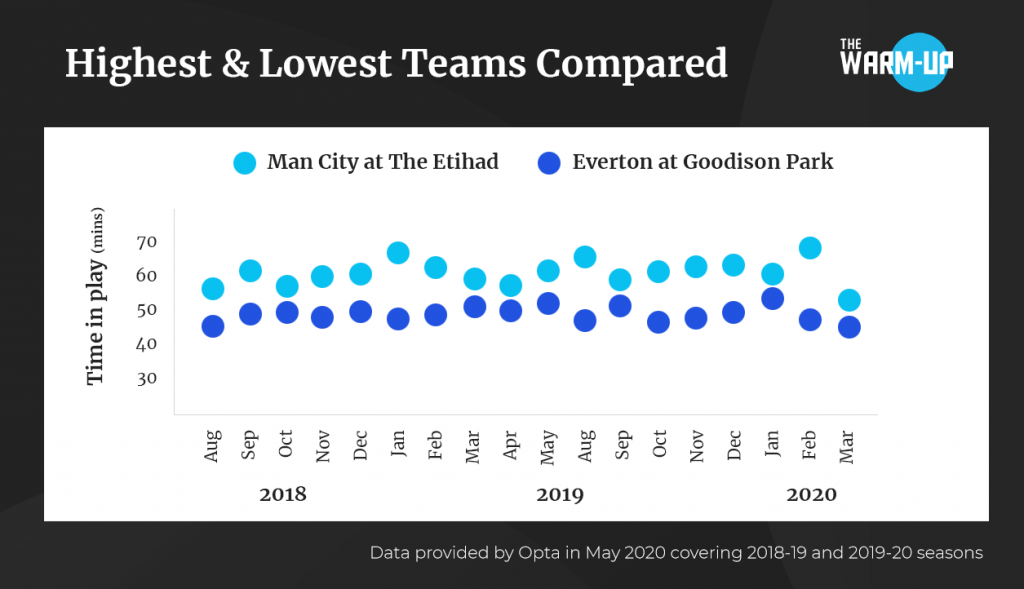 Here is the full table of all current Premier League teams and their time in play data since the start of the 2018-19 season: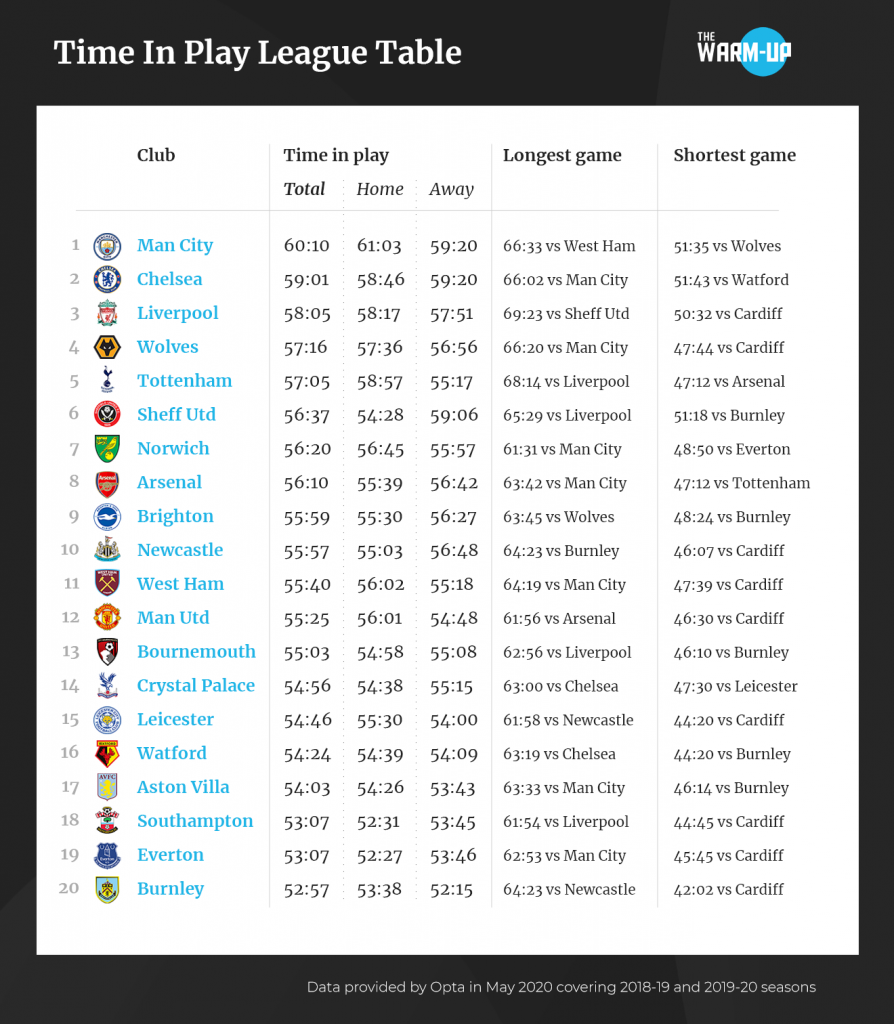 Click here to view text version of this table
For the chance of truly epic games, Liverpool are your best bet. Of all fixtures since the start of 2018/19, Liverpool feature in three of the top five – including 69 minutes of action against Sheffield United in January 2020.
Five longest matches:
Liverpool vs Sheffield United

(69 mins 23 secs)

– 02/01/2020
Tottenham Hotspur vs Liverpool

(68 mins 14 secs)

– 11/01/2020
Manchester City vs West Ham United

(66 mins 33 secs)

– 19/02/2020
Liverpool vs Southampton

(66 mins 32 secs)

– 22/09/2018
Manchester City vs Wolves

(66 mins 20 secs)

– 14/01/2019
The biggest risk of being severely shortchanged lies with Burnley fans. They dominate the bottom five, with three of the shortest in-play totals. Their tie against Watford in November 2019, and both of their 2018-19 ties against Cardiff, failed to even pass 45 minutes of playing time. 
Five shortest matches:
Cardiff City vs Burnley

(42 mins 2 secs)

– 30/09/2018
Watford vs Burnley

(43 mins 39 secs)

– 23/11/2019
Burnley vs Cardiff City

(43 mins 55 secs)

– 13/04/2019
Cardiff City vs Leicester City

(44 mins 20 secs)

– 03/11/2018
Fulham vs Leicester City

(44 mins 38 secs)

– 05/12/2018
Those wielding the power are the referees – and plenty of variation can be found here too. Ties officiated by Andre Mariner average a whopping 58 minutes, while Lee Probert is involved in games averaging just 53 minutes.
Solutions from the UK public
With such variability in the actual action on offer, we asked football fans whether they'd be in favour of redressing the balance. We found that over half of fans were in favour of a stop clock like that used in NBA and NFL, while 67% believe referees need to add more stoppage time to account for VAR interventions.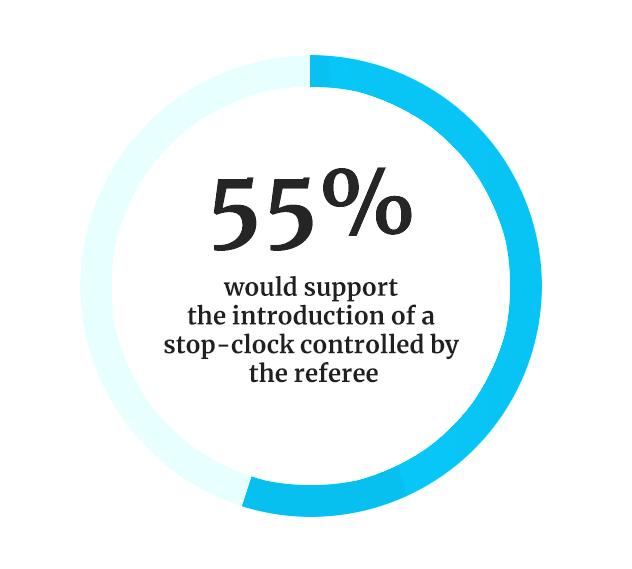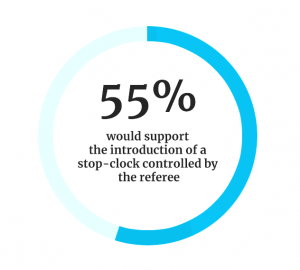 Alternative suggestions put forward by fans included banning substitutions after 85 minutes, only allowing the team captain to speak to the referee, five-minute sin bin for time-wasting, and banning players from taking the ball into the corner of the pitch at the end of the game.
With these level of support of such a significant change to the rules, VAR —despite its critics— could open the floodgates to further significant changes to how the beautiful game is played.
---
1 Source data provided by Opta and analysed by Compare.bet, May 2020. Season ticket price of £750 and an average attendance of 39,372 were used in calculations.
2 YouGov survey of 1,397 UK football fans commissioned by Compare.bet, 1-6th May 2020. Survey figures, unless otherwise stated, are from YouGov Plc. Total sample size was 4,272 adults, of whom 1,397 identified as football fans. Fieldwork was undertaken between 1st – 6th May 2020. The survey was carried out online. The figures have been weighted and are representative of all UK adults (aged 18+).
---
Survey results
1. Thinking about a standard game of professional football (i.e. a 90 minute game with injury time)… How much active gameplay do you think takes place during a standard game?
Less than 46 minutes – 6%
Between 46 minutes and 60 minutes 59 seconds – 22%
Between 61 minutes and 75 minutes and 59 seconds – 30%
Between 76 minutes and 90 minutes – 30%
90 minutes or more – 8%
Don't know – 4%
2. It's been calculated that the average amount of active gameplay in a Premier League football match is 59 minutes, 49 seconds…With this in mind, to what extent would you support or opposite the introduction of a stop-clock controlled by the referee (i.e. such as ones used in basketball and rugby) whenever active gameplay stops?
Strongly support – 26%
Slightly support – 29%
Slightly oppose – 13%
Strongly oppose – 20%
Don't know – 12%
Net Agree – 55%
Net disagree – 33%
3. Which, if any, of the following actions would you support in order to reduce lost time during football matches?
Referees adding stoppage time to account for VAR stoppages – 67%
Referees adding stoppage more frequently due to players intentionally wasting time (i.e. slow goal kicks, slow substitutions etc) – 65%
Players receiving in-match disciplinary action for time-wasting (i.e. yellow/red card etc) – 66%
Players receiving disciplinary post-match action for time-wasting (i.e. fines, match bands etc) – 44%
Other – 2%
None of these – 9%
Text version of League Table
| | | | | | |
| --- | --- | --- | --- | --- | --- |
| Club | Total | Home | Away | Longest game | Shortest game |
| Man City | 60:10 | 61:03 | 59:20 | 66:33 vs West Ham | 51:35 vs Wolves |
| Chelsea | 59:01 | 58:46 | 59:20 | 66:02 vs Man City | 51:43 vs Watford |
| Liverpool | 58:05 | 58:17 | 57:51 | 69:23 vs Sheff Utd | 50:32 vs Cardiff |
| Wolves | 57:16 | 57:36 | 56:56 | 66:20 vs Man City | 47:44 vs Cardiff |
| Tottenham | 57:05 | 58:57 | 55:17 | 68:14 vs Liverpool | 47:12 vs Arsenal |
| Sheff Utd | 56:37 | 54:28 | 59:06 | 65:29 vs Liverpool | 51:18 vs Burnley |
| Norwich | 56:20 | 56:45 | 55:57 | 61:31 vs Man City | 48:50 vs Everton |
| Arsenal | 56:10 | 55:39 | 56:42 | 63:42 vs Man City | 47:12 vs Tottenham |
| Brighton | 55:59 | 55:30 | 56:27 | 63:45 vs Wolves | 48:24 vs Burnley |
| Newcastle | 55:57 | 55:03 | 56:48 | 64:23 vs Burnley | 46:07 vs Cardiff |
| West Ham | 55:40 | 56:02 | 55:18 | 64:19 vs Man City | 47:39 vs Cardiff |
| Man Utd | 55:25 | 56:01 | 54:48 | 61:56 vs Arsenal | 46:30 vs Cardiff |
| Bournemouth | 55:03 | 54:58 | 55:08 | 62:56 vs Liverpool | 46:10 vs Burnley |
| Crystal Palace | 54:56 | 54:38 | 55:15 | 63:00 vs Chelsea | 47:30 vs Leicester |
| Leicester | 54:46 | 55:30 | 54:00 | 61:58 vs Newcastle | 44:20 vs Cardiff |
| Watford | 54:24 | 54:39 | 54:09 | 63:19 vs Chelsea | 44:20 vs Burnley |
| Aston Villa | 54:03 | 54:26 | 53:43 | 63:33 vs Man City | 46:14 vs Burnley |
| Southampton | 53:07 | 52:31 | 53:45 | 61:54 vs Liverpool | 44:45 vs Cardiff |
| Everton | 53:07 | 52:27 | 53:46 | 62:00 vs Man City | 45:45 vs Cardiff |
| Burnley | 52:57 | 53:38 | 52:15 | 61:07 vs Newcastle | 42:02 vs Cardiff |