Whether its opting for a photo at the stadium, sporting their favourite team's jersey or even mentioning the club in their bio, there's no denying that football fans are loyal to their beloved teams – even on dating apps! But could doing this be hindering your chances of being swiped right?
In order to find out which Premier League team gives fans the best chance of bagging a date, we conducted an experiment using the popular online dating app, Tinder. The goal of the experiment was to see if showing the team you support increases your chances of getting a match and, if it does, which team bags fans the most matches?
To do this, we created 20 profiles on the app, each including the same details, photos, name, age and hobbies, except for one thing: which team the profile supported and which team's jersey the person was wearing. We also created another profile which refrained from mentioning football at all. We made 250 swipes on each of the accounts to determine which profile is the most "attractive" to women and receives the most right swipes.
Which football fans are most likely to get a date?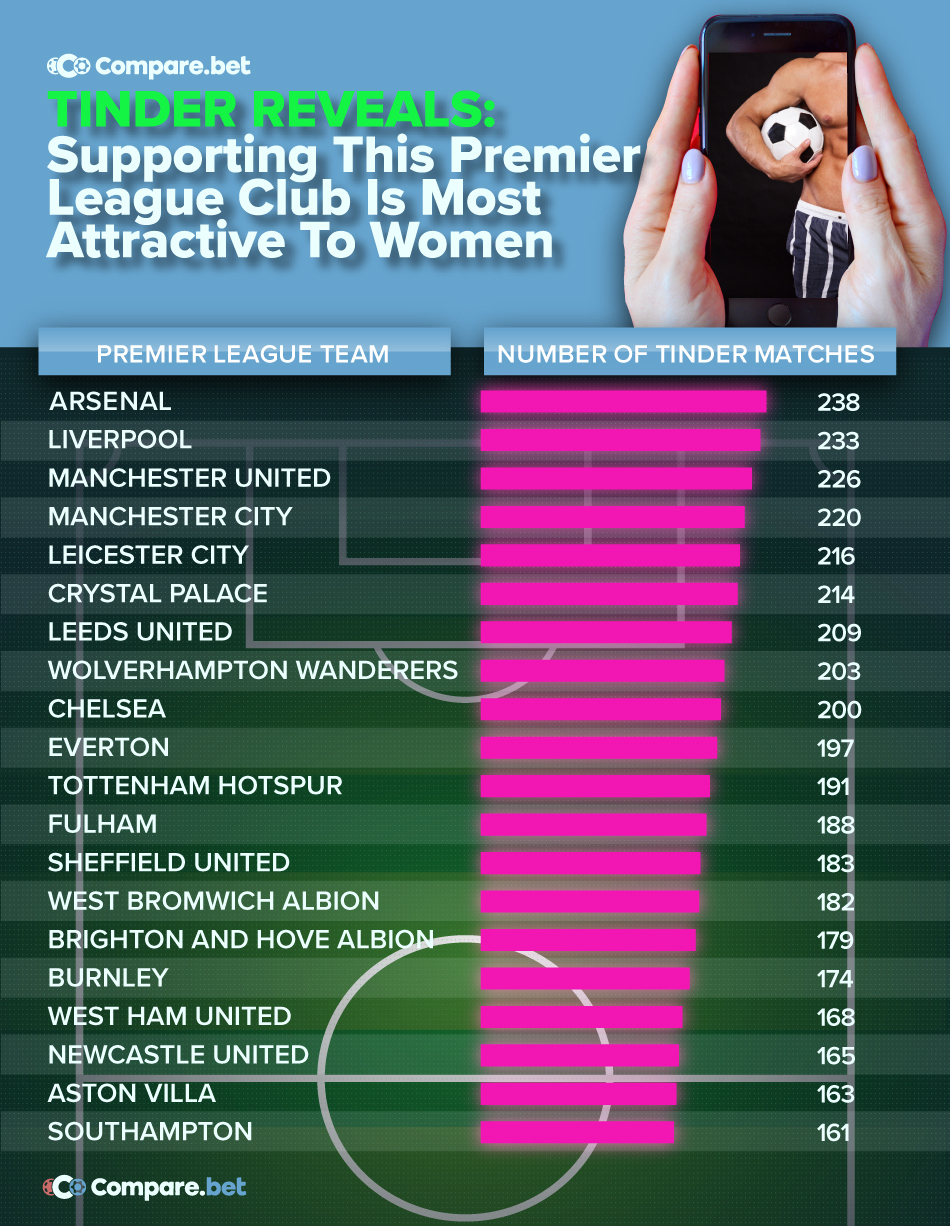 After analysing the results, we can reveal that Arsenal is in first place, with fans getting the most matches and potential dates than any other Premier League fan in England's top-flight league. A whopping 238 ladies wanted to match with this dating profile, meaning that just 12 women didn't find this profile attractive enough to warrant a right swipe.
Becoming Premier League champions for the first time in 30 years in the 2019/20 season wasn't enough for Liverpool fans to take the top spot, as they come in second place. Supporters of the Reds narrowly miss out on first with 233 matches out of a possible 250 on the app – just 5 less than first place Arsenal. Fans will be pleased to know that Liverpool finishes in front of local rivals, Everton, both on and off the pitch, beating them by an impressive 36 more matches.
It seems if you're a fan of the Red Devils you won't be struggling to get a date, with Manchester United fans scoring 226 matches out of a possible 250. Liverpool and Manchester United's inner-city rivalry is one of the most high-profile rivalries between England clubs, but there is no debating which team comes out on top here, with United fans receiving 7 less swipes overall.
Next up in third is Manchester City, bagging 220 right swipes on the dating app – 6 less than cross-town competitors, Manchester United. Leicester City come in fifth, with an equally impressive 216 matches out of a possible 250, and following closely behind are The Eagles, with Crystal Palace supporters being swiped right 214 times.
The 10 most attractive fans in the Premier League are:
Arsenal (238)
Liverpool (233)
Manchester United (226)
Manchester City (220)
Leicester City (216)
Crystal Palace (214)
Leeds United (209)
Wolverhampton Wanderers (203)
Chelsea (200)
Everton (197)
Which football fans are least likely to get a date?
We can reveal that Saints fans are found to be the least likely to get a date, bagging just 161 right swipes out of a possible 250. That's a staggering 77 less than first place Arsenal and just over half of possible suitors! It's probably best for Southampton fans to keep their favourite football teams to themselves if they want to be lucky in love…
Among the most unattractive football fanbases are Aston Villa and Newcastle United fans, each receiving just 163 and 165 matches, respectively.
Fans of West Ham United are also among the least attractive, with only 168 matches out of a possible 250. West Ham supporters are often described as being one of the rowdiest fanbases in England, which may be one of the reasons why potential suitors are likely to swipe left instead of right.
Known for their rivalry with Arsenal both on and off the pitch, Tottenham Hotspur fall into 11th place, making them among the top 10 least attractive fans in our Tinder experiment. Despite placing higher than Arsenal in the 2019/20 Premier League season, Arsenal came out on top this time around with the Spurs profile only receiving 191 matches in comparison – 42 less!
Interestingly, we found that the Tinder profile wearing casualwear instead of donning a top with a football logo received 170 matches out of a possible 250. This means that supporters of Southampton, Aston Villa, Newcastle, and West Ham might find themselves more successful in their quest for love if they ditch the kit and don't mention their beloved team.
The 10 least attractive fans in the Premier League are:
Southampton (161)
Aston Villa (163)
Newcastle United (165)
West Ham United (168)
Burnley (174)
Brighton and Hove (179)
West Brom (182)
Sheffield United (183)
Fulham (188)
Tottenham Hotspur (191)
---
Methodology
Compare.bet created two Tinder profiles – one where the picture was of a male in normal everyday clothing, and the other wearing a football top of each of the 20 teams in the 2020/21 season.
Everything on the account (i.e. the bio, name, and person in the photo) stayed the same, the only changing factor was what they were wearing to control the number of matches being based on other factors.
250 swipes were made first for the profile of the person wearing casual clothing and mentioning no football team, and then another 250 for each of the different Premier League teams.